Holyoke Public Library receives grant to digitize Video Collections documenting Latino and Puerto Rican life in Holyoke
Date: 12 June 2019
The Holyoke History Room of the Holyoke Public Library has received a Recordings at Risk grant from the Council on Library and Information Resources (CLIR). The award of $14,644 will be used to digitize more than 100 video recordings of the bilingual Vecinos/Neighbors community access television program, filmed in and around Holyoke in the early 1990s. The grant will also fund digitization of a portion of the VHS recordings in the History Room's La Familia Hispana, Inc. collection. The donation of both of these collections was the result of years of conversations and negotiations between Diosdado López of La Familia Hispana, Inc. and Manuel Frau Ramos of the Puerto Rican Cultural Project of the Holyoke Public Library.
The Project was one of only 20 selected from a pool of 77 applicants to receive this competitive grant. Recordings at Risk is a national regranting program aimed at preserving historically-valuable recorded material endangered by deterioration and format obsolescence. The Andrew W. Mellon Foundation funds the grant program.
Vecinos/Neighbors began recording in 1991 and soon started airing weekly on Continental Cablevision of Westfield, MA. Producers Carlos Vega, Sylvia Galván, and Gary O'Connor sought to connect viewers with reliable information on issues such as voting, redistricting, education, and community development. At the same time, by featuring local artists, performers, and community projects, they hoped to counter-balance negative perceptions of Latino communities in Holyoke and the Pioneer Valley so often portrayed in the media. Many episodes featured guest hosts or interviews with community members, including Orlando Isaza, Diosdado Lopez, Gladys Lebron, José González, Magadelena Goméz, Betty Medina Lichtenstein, Yolanda Nogué, and many others active in their communities.
After Vecinos/Neighbors ceased production, Carlos Vega and others continued to film community events, activities, and performances related to his work as a community organizer.
Members of CLIR's independent grant-review panel noted that the project was "timely and urgent." As one scholar noted in a letter of support, "These are important cultural, educational, historical, and political stories, told through the perspectives and voices of those who experienced them."
Holyoke History Room Archivist Eileen Crosby will oversee the grant, which will involve inventorying the collection and working with a digitization vendor. After digitization, the grant will fund a part-time bilingual intern during the winter months to assist with creating descriptions for each tape and sharing as much content with the public as possible through an online platform. The intern will also be involved in planning a community event and screening in the Library's Community Room in early summer 2020.
For CLIR's announcement of funded projects, see "Claiming Place: Preserving the History of Puerto Rican and Latino Culture and Politics in Western Massachusetts through digitization of the Vecinos/Neighbors and La Familia Hispana, Inc. video collections" (https://www.clir.org/recordings-at-risk/funded-projects/). For more information about the project, contact the Holyoke History Room Archivist at (413) 420-8107.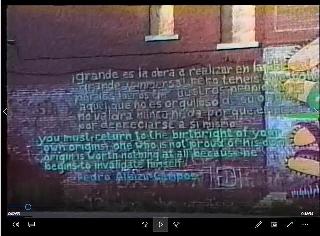 LA BIBLIOTECA PÚBLICA DE HOLYOKE RECIBE UNA SUBVENCIÓN PARA DIGITIZAR UNA COLECCIÓN DE VIDEOS DOCUMENTANDO LA VIDA DE LATINOS Y PUERTORRIQUEÑOS EN HOLYOKE
Fecha: 12 de junio del 2019
La Sala de Historia de Holyoke de la Biblioteca Pública de Holyoke ha recibido una subvención de Grabaciones en Riesgo del Consejo de Bibliotecas y Recursos de Información (CLIR). El premio de $14,644 se usará para digitalizar mas de 100 grabaciones de video del programa de televisión de acceso comunitario bilingüe Vecinos/Neighbors, filmado en y alrededor de Holyoke a principios de los años noventa. La subvención también financiará la digitalización de una parte de las grabaciones de VHS de la Colección La Familia Hispana, Inc. que están en la Sala de Historia. El Proyecto fue uno de 20 seleccionados de un grupo de 77 solicitantes para recibir esta competitiva subvención. Grabaciones en Riesgo es un programa nacional de canalización de subvenciones destinado a preservar material grabado de valor histórico en peligro de deterioro y por un obsoleto formato. La Fundación Andrew W. Mellon financia el programa de becas. La donación de ambas colecciones fue el resultado de años de conversaciones y negociaciones entre Diosdado López de La Familia Hispana, Inc. y Manuel Frau Ramos del Proyecto Cultural de Puerto Rico de la Biblioteca Pública de Holyoke.
El programa Vecinos/Vecinos empezó a grabarse en 1991 y comenzó a emitirse semanalmente en Continental Cablevisión de Westfield, MA. Los productores Carlos Vega, Sylvia Galván y Gary O'Connor buscaron conectar a los espectadores con información confiable sobre temas como la votación, la redistribución de distritos, la educación y el desarrollo comunitario. Al mismo tiempo, al presentar artistas locales, a intérpretes, músicos y proyectos comunitarios, esperaban contrarrestar las negativas percepciones de las comunidades latinas en Holyoke y el Pioneer Valley que tan a menudo se presentan en los medios de comunicación. Varios episodios incluyen anfitriones invitados o entrevistas con miembros de la comunidad como Orlando Isaza, Diosdado López, Gladys Lebrón, José González, Magadelena Gómez, Betty Medina Lichtenstein, Yolanda Nogué y muchos otros activos miembros de la comunidad.
Después de que Vecinos/Neighbors cesó su producción, Carlos Vega y otros continuaron filmando eventos comunitarios, actividades y actuaciones relacionadas con su trabajo como organizador comunitario. Ambas colecciones de cintas fueron donadas a la Biblioteca en 2018 con el mutuo objetivo de preservar su contenido y compartirlo con el público. Los miembros del independiente panel de revisión de subvenciones de CLIR señalaron que el proyecto fue "oportuno y urgente". Como señaló un académico en una carta de apoyo "estas son importantes historias culturales, educativas, históricas y políticas que se cuentan a través de las perspectivas y voces de los que las experimentaron ".
Eileen Crosby, la archivera de la Sala de Historia de Holyoke supervisará la subvención lo que implicará inventariar la colección y trabajar con un proveedor de digitalización. Después de la digitalización, la subvención financiará un interno/a bilingüe de medio tiempo durante el invierno para crear descripciones para cada cinta y compartir el contenido con el público a través de una plataforma en línea. El/la interno/a también participará en la planificación de un evento comunitario y una proyección en la Sala de la Comunidad de la Biblioteca a principios del verano de 2020.
Para ver el anuncio de proyectos financiados por CLIR, consulte "Claiming Place: Preserving the history of Puerto Rican and Latino Culture and Politics in Western Massachusetts through digitization of the Vecinos/Neighbors and La Familia Hispana, Inc. video collections" (https://www.clir.org/recordings-at-risk/funded-projects/).
Para obtener más información sobre el proyecto, comuníquese con la Archivera de la Sala de Historia de Holyoke al (413) 420-8107.
---