Mi Gente Estuvo Aquí También / My People Were Here Too
Mi Gente Estuvo Aquí También / My People Were Here Too
Saturday - September 9th - 11:00 AM
Holyoke Public Library Community Room
Irisneri Alicea Flores' July 25 Genealogy Drop-in at the History Room was filled to capacity! On September 9, Irisneri returns for a rich and inspiring presentation on her work. Irisneri is a professional genealogist and author of the Descubre Tu Historia blog.
Irisneri will share her own story of the healing journey that comes with digging into one's own roots and offer practical tips on how to begin searching for your own family history using regional sources. Anyone with an interest in genealogy generally, or in Puerto Rican, Caribbean, and South and Central American genealogy specifically, will have something to learn from the presentation.
Irisneri will speak in English and Spanish and will hold a bilingual Q&A after the talk. This hybrid event takes place in in person at the Holyoke Public Library Community Room and online. No registration needed to attend in person
Register for the online event.
El 25 de julio, Irisneri Alicea Flores dió una charla sobre genealogía en la Sala de Historia, ¡con un lleno absoluto! El 9 de septiembre, Irisneri vuelve para una presentación rica e inspiradora sobre su trabajo. Irisneri es genealogista profesional y autora del blog Descubre Tu Historia.
Irisneri compartirá su propia historia del viaje sanador que supone indagar en las propias raíces y ofrecerá consejos prácticos sobre cómo empezar a buscar tu propia historia familiar utilizando fuentes regionales. Cualquier persona interesada en la genealogía en general, o en la genealogía puertorriqueña, caribeña y centroamericana en particular, tendrá algo que aprender de esta presentación. Irisneri hablará en inglés y español y mantendrá una sesión bilingüe de preguntas y respuestas después de la charla.
Este evento híbrido tiene lugar en persona en la Sala Comunitaria de la Biblioteca Pública de Holyoke y en línea. No es necesario registrarse para asistir en persona.
Inscríbete para el evento en línea.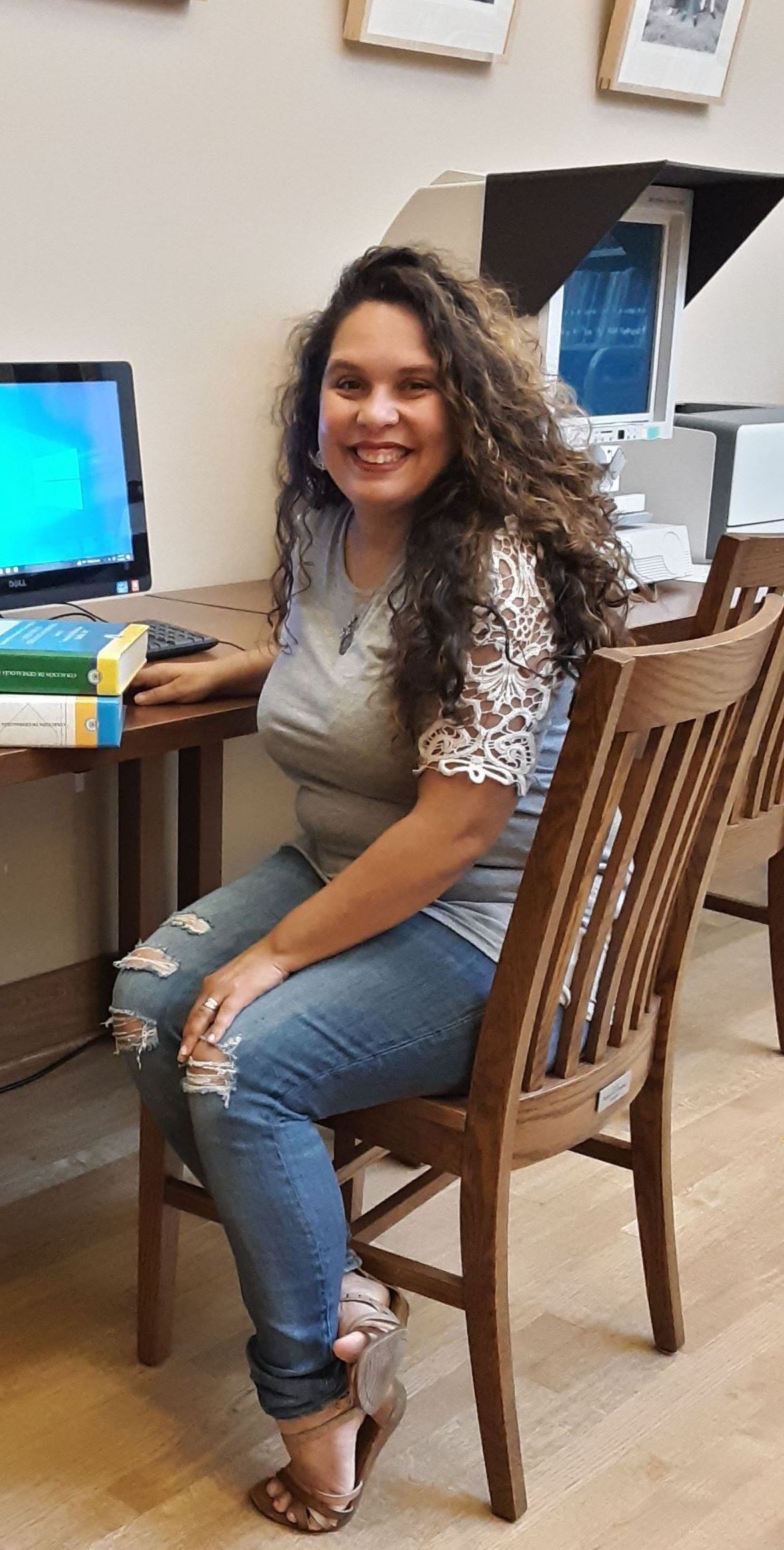 ---
¡Genealogía sin cita previa en julio! / Drop-in Genealogy in July!
Tuesdays July 11,18, 25, 4:00-6:00 PM
¿Siempre has querido saber más sobre tu descendencia pero no sabes por dónde empezar? ¿O diste el primer paso y no estás seguro de cómo profundizar en tu investigación? La genealogista profesional Irisneri Alicea Flores estará 'en residencia' en la Sala de Historia de Holyoke los tres martes, 11, 18 y 25 de julio, de 4:00 p. m. a 6:00 p. m. En una sesión sin cita previa, Irisneri podrá ayudarlo a descubrir y aprender a usar fuentes genealógicas, organizar su investigación y planificar su próximo paso.
Al igual que con muchos genealogistas profesionales, el interés de Irisneri comenzó con su propia familia, quienes se mudaron a Nueva York desde Puerto Rico en la década de 1950. La genealogía la llevó a profundizar y descubrir más sobre el padre de su propio abuelo materno. Y conectarse a su abuela paterna quien ya había muerto antes de ella nacer. Ahora, una genealogista practicante que vive localmente, Irisneri disfruta empoderando a otros ayudándolos a investigar sus historias familiares. Sus fortalezas particulares se encuentran en fuentes hispano americanas, inclusive de las islas caribeñas de Puerto Rico, República Dominicana y Cuba y colecciones estadounidenses.
La Sala de Historia de Holyoke se complace en poder ofrecer los servicios bilingües de Irisneri sin cargo estos tres martes por la tarde. No es necesario reservar una cita. Algunas sesiones individuales estarán abiertas, para que todos puedan aprender.
La Sra. Alicea Flores tiene un Certificado en Investigación Genealógica de la Universidad de Boston y es miembro de la Asociación de Genealogistas Profesionales, la Sociedad Genealógica Nacional, la Sociedad Genealógica y Biográfica de Nueva York, y la Sociedad Puertorriqueña de Genealogía.
Drop-in Genealogy in July!
Have you always wanted to find out more about your ancestry but don't know where to begin? Or did you take the first step and aren't sure how to deepen your research? Professional genealogist Irisneri Alicea Flores will be 'in residence' at the Holyoke History Room on three Tuesdays, July 11, July 18, & July 25, 4:00-6:00 PM. A drop-in session with Irisneri can help you discover and learn to use genealogy sources, organize your research, and plan your next step.
As with many professional genealogists, Irisneri's interest began with her own family, who moved to New York from Puerto Rico in the 1950s. A family mystery led to her uncovering the story of the long-lost father of her own maternal grandfather and learning more about her paternal grandmother she never got to meet. Now a practicing genealogist who lives locally, Irisneri takes joy in empowering others by helping them research their family stories. Her particular strengths are in Hispanic American collections which include the Caribbean countries of Puerto Rico, Dominican Republic & Cuba, and American collections.
The Holyoke History Room is pleased to be able to offerIrisneri's bilingual services free of charge on these three Tuesday afternoons. No reservation needed, just drop in! Some one-on-one sessions will be open, so that all can learn.
Ms. Alicea Flores has a Certificate in Genealogy Research from Boston University and is a member of the Association of Professional Genealogists, the National Genealogical Society, and the Sociedad Puertorriquena de Genealogia.
---
Unveiling of the William Dwight portrait at the Holyoke Public Library
The Holyoke Public Library welcomed a recent gift of an oil portrait of William Dwight (1903-1996) from the Dwight family. The artist was Roy Spreter, a successful American illustrator and portraitist. It has been given a place of honor in the History Room, near the portraits of Dwight's parents, Minnie and William G. Dwight, long-time owners, publishers, and editors of the Holyoke Daily Transcript and Holyoke Transcript-Telegram. William Dwight became editor of the Transcript upon his father's death in 1930, while his mother became publisher.
Below are some scenes from the hanging and unveiling of the portrait on June 28 and the story-sharing that followed.
---