Mini Golf, a FUN community event and fundraiser for the Holyoke Public Library, is coming in spring 2023.
Saturday, April 29, 2023, 9:30 am - 3:30 pm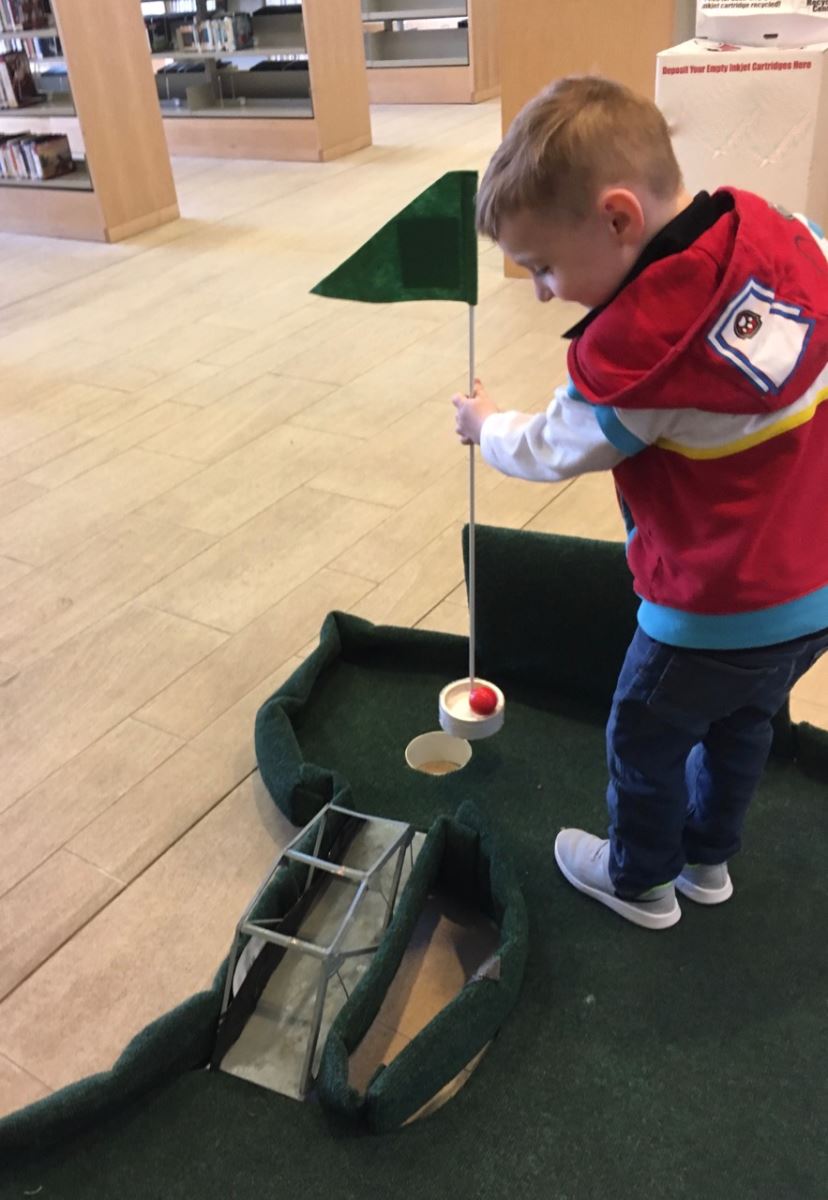 Mini Golf and Games at the Library!
¡Minigolf y juegos en la Biblioteca!
All ages welcome.13- Adult - $5 to play.
Discount rate for ages 5-12 ($3); under 5 free.
and
A Tournament of Human FOOSBALL in the Library Park, 10:30 am - 3:00 pm
Teams of 6 competing for Bragging rights, $30 per team. REGISTER HERE
CRAVE Food Truck: 12:00 pm - 3:00 pm
We need SPONSORS. Please click here for the 2023 Sponsorship Form and Official Letter, or click here to fill out the SPONSOR form online. You can also contact Nancy Kocsmiersky, nancy@holyokelibrary.org or 413-420-8109.
Thank you!
VOLUNTEERS are welcome! We need many volunteers each year. You may email nancy@holyokelibrary.org, call 413-420-8109. or Sign Up online HERE
---
HISTORY
(and links to photos from past years)
Our first Mini Golf event (April 2016) was a big success: people of all ages enjoyed playing 18 holes of miniature golf inside the library, and the event raised over $6K. This wonderful community event has now become an Annual FUN raiser and Fundraiser. See Sandy Ward's PHOTO albums for 2016, 2017, 2018, 2019, and 2022. See also photographer Steven Nanton's 35 photos on MassLive, April 6, 2019.
Major funding comes from local businesses and donors that sponsor "holes" on the golf course or choose other ways to underwrite the event. Funds raised through ticket sales a
nd sponsorships (and an auction) help enhance library programming and services, especially for teens and children.
The 18-hole course: The first four tees and putting greens are on the top floor (Level 4) in and around the Non-fiction stacks and Reference stacks. Play continues down the stairs and throughout the Children's Room on Level 2, then down to the Fiction Stacks, Level 1, and the Teen Room on the ground level.
---
Event Sponsors and Hole Sponsors make this wonderful event possible.
Would you like to become a Sponsor? Please see the 2023 Sponsorship letter & form or contact Nancy Kocsmiersky, HPL Development Office, 413-420-8109 or nancy@holyokelibrary.org. Thanks!
Sponsors who have committed for 2023:
PeoplesBank, Event Sponsor at the Diamond Level
Holyoke Gas & Electric, Event Sponsor at the Gold Level
W & G Insurance, Event Sponsor at the Gold Level
Easthampton Savings Bank, Gold Sponsor
Witman Properties, Silver Sponsor
Mount Holyoke College, Event Sponsor at the Bronze Level
Dowd Agencies, Event Sponsor at the Bronze Level
Mass. Surgical Supply, Hole Sponsor
Wayfinders, Hole Sponsor
Sandy Ward- Kestrel Land Trust Hole sponsor
Michael Baron, Hole Sponsor
River Valley Counseling Center, Hole Sponsor
OneHolyoke, Hole Sponsor
Common Capital MA, Hole Sponsor
State Representative Pat Duffy, sponsoring 100 student golfers
Conklin Office Furniture, Sponsor 100 student golfers
Marcotte Ford, Sponsoring 50 student golfers
Clayton Insurance, sponsoring 50 student golfers
MIFA, sponsoring 50 student golfers
Bresnehan Insurance, Sponsoring 50 student golfers
Hadley Printing, free printing of score cards
Deadline April 16 for inclusion of sponsor logos on the printed Scorecard for 2023.
---
Lucky Auction Donors and other donors
We thank these businesses who donated in support of this fundraiser in 2023:
Six Flags New England, 2 Passes to the park in 2023
Greater Holyoke YMCA, Three (3) month Adult Membership
Polish National Bank, donation
Crooked Popcicle Sticks, Gift certificate
Children's Museum, Free Admission passes
Nick's Nest, Gift Certificate and T-shirt
Hair Hunterz, Free Haircut
Holyoke Sporting Goods, Gift Certificate
Holyoke Tax Service, Gift certificates
---